Boyle and Cook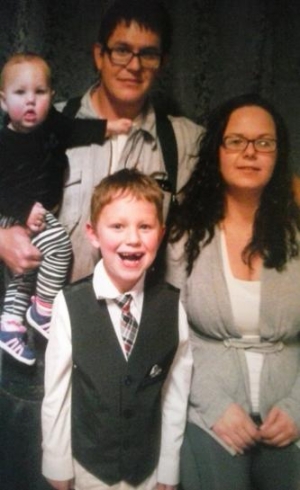 Timothy Boyle age 27 and Jacqueline Cook age 26 have over come many obstacles. They have a seven year old son Kyle and the newest addition a ten month old baby girl Kylie. Starting out as high school sweet hearts they began a family.
Trying to maintain a healthy family unit proved to much for the two who got lost to addiction and homelessness. Drugs helped them escape the fact that they never learned the skills to be in a functional family.
They lost their son to a family member because of their drug use. While they were homeless the two did what they were used to and continued a downward spiral. In 2015 Jacqueline became pregnant with her second child. The pregnancy gave her the motivation she needed to get clean. T.A.F.Y. had helped her before and she turned to them for the assistance she needed to pull herself out of the dark place and embrace a new light.
Following her steps through the support of T.A.F.Y Timothy went to alcohol/drug treatment and learned new skills to be a part of, and support his family. They both have successfully graduated outpatient treatment and continue to attend AA/NA meetings. They have their son with them, along with their little Kylie.
Timothy holds down a full time job and takes online classes to pursue his high school diploma. Jacqueline is a full time student at Peninsula . Kyle is a well adjusted youngster that loves having two clean and sober parents. Kyle enjoys school and extra curricular sports through the YMCA. Kylie has benefited greatly from having a sober mother. and father.
She is right on track in her development and is involved in the Early head start program. Today, thanks to other social service programs and T.A.F.Y. Timothy and Jacqueline have a healthy functioning family unit that they, and others can be very proud of.